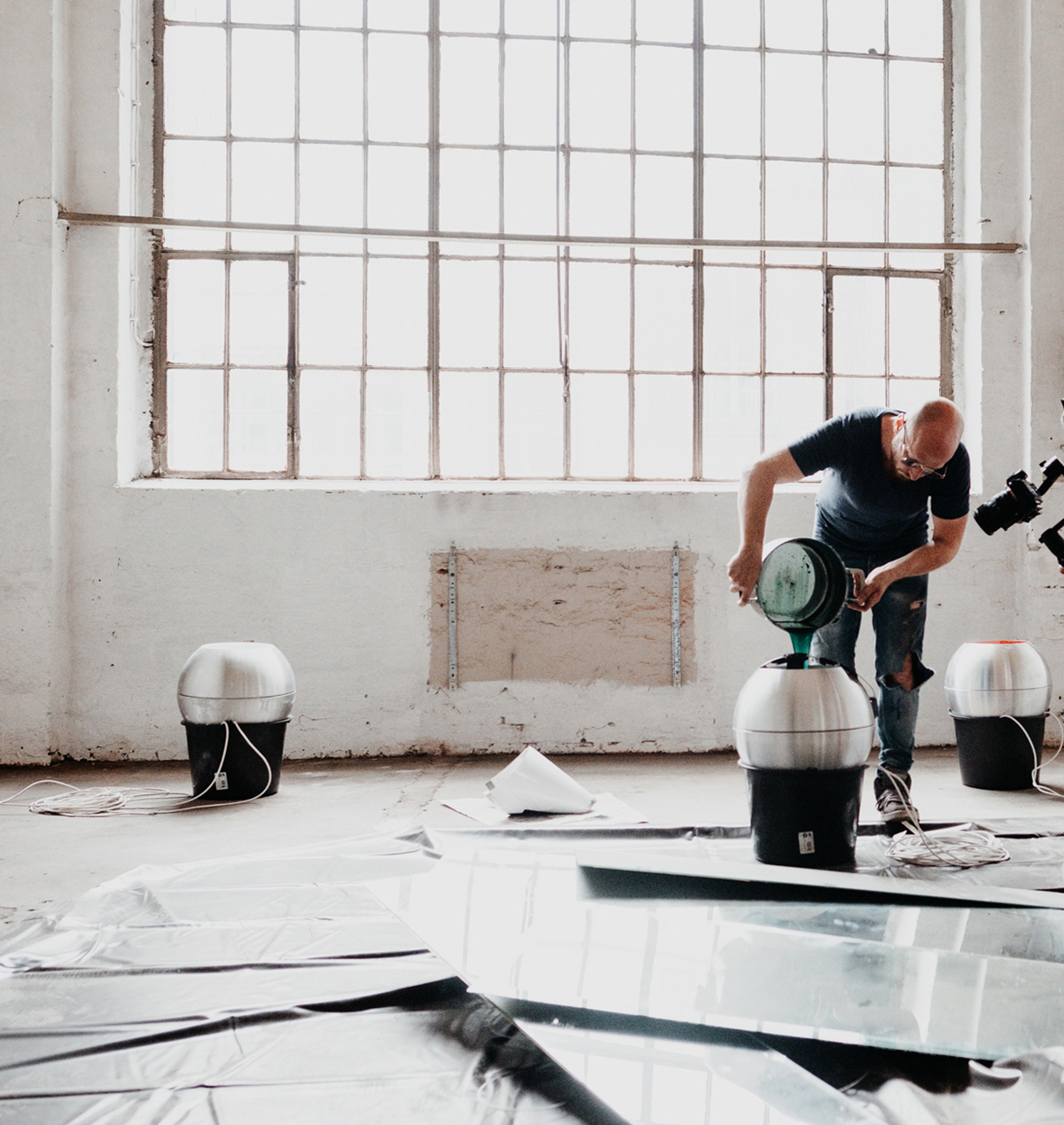 Jan Kuck, born 1978 in Hannover, lives and works in Berlin and Munich and is represented by the artist agency Bernheimer Contemporary, headquartered in Berlin.
In his conceptual art he pointedly works out both the wit and the tragedy of our society. An important theme that runs through all of his work is the varied use of light, often in conjunction with words.
Kucks intention is to illustrate a humorous critical point of view.
His focus lies on conceptional and performance art. This can be expressed through criticism of the unreflected awkward decadency of our nowadays society or even by playful constructions of reality. His ideas and conceptual art is expressed through all different kinds of media: sculptures, installations, video works, performances and design.
Kucks art – and design works are a mirror of his biography.
At first he studied law, a path that he has to left shortly before his first state examination, cause the stiff environment would have led him straight into insanity. The logical outcome for Kuck was to engage in the studies of philosophy and history in order to understand how artistic approaches can be transformed into concepts and performances.
His master's thesis in philosophy considered the question, how the standard of living is affected by the money paradigm of our economic systems.
In 2012, under director Bonaventure Soh Bejeng Ndikung, Jan Kuck had his first major gallery exhibition (PACKET-SOUP) at the non-commercial gallery SAVVY Contemporary Berlin, which was held under great media attention.
In October 2013 he presented his design sculpture – the T.TABLE – at JR Gallery Berlin to a selected audience and therefore received considerable national and international press attention.
From June 2014 Jan Kuck has been represented by BERNHEIMER CONTEMPORARY. Since than until March 2022 he took part in almost 70 exhibitions in Germany and also worldwide.
Among others: Benefit Auctions for the Pinakothek der Moderne Munich, Arsenale Docks during the 15th Venice Architecture Biennale, Highlights Art Fair Munich, Art Fair Budapest, Ansbach Biennale, Genoa Biennale, SOFA CHICAGO Art fair, State Textile- and Industrymuseum Augsburg, Deutsches Museum Munich, Palazzo Ducale Genoa.
Especially his last exhibitions received great attention in the press and art scene. After his solo presentation at Kunsthalle München Time to talk now! (April 2019), Jan Kuck spoke at TEDx Munich and was the first light artist to get the chance to play the Munich Siegestor during MCBW 2020 with his light installation DESIGN! or NO SIGN?
His largest art installation in public space to date is THE BURNING RIVER, for which he set nearly 100 meters of Munich's Isar River at the height of the Deutsches Museum seemingly ablaze with industrial lasers in March 2020, asking people from all over the world to answer the question "What are you burning for?"
From summer to fall 2021, numerous of his neon signs were exhibited in Munich, Augsburg and Passau as part of the Designwalk.Art exhibition, including in front of the synagogue in Munich.
In August 2022, he exhibited several of his art-works in the park of Schloss Bellevue at the Federal President's Citizens' Festival.
From Mai 2022 until the beginning of 2023 two of his TIME MATTERS neon-works were installed at the historic entrance gate of the Protestant Central Cemetery Regensburg.
Currently he is preparing national and international solo and group shows, as well as installations in the public space of several major European cities.
"Art is philosophy that sets in with multidimensional beauty and sharp wit, where words alone are no longer sufficient to ask the really basic, disturbing, and above all, inspirational questions."
Jan Kuck
EXHIBITIONS & TALKS
UPCOMING:
2024 (February) THE BURNING CANAL, Copenhagen Light Festival 2024
PRESENT:
2023 (November) NEVER AGAIN …IS NOW! @ Munich town hall balcony Marienplatz
2023 (from April 2023 – permanently) TIME MATTERS @ MAIIIM Genoa, Italy
PAST:
2023 (November) SOAP @ Luxembourg Art Week at the booth of bechter kastowsky galerie, Luxembourg
2023 (October) WHO CARES @ Art and Beat Party @ Museum für konkrete Kunst, Ingoldstadt
2023 (June – July) "sali e tabacchi" with Peter Vahlefeld @ Galerie Michael Heufelder, Munich
2023 (Mai) Art Karlsruhe @ Malte Uekermann Kunsthandel
2023 (Mai) Parallel Editions 2023 Vienna @ Bernheimer Contemporary with Kronsbein Gallery & MKK Ingoldstadt
2023 (January) WORDS ARE OVERESTIMATED @ Gallery Koppelmann, Cologne
2023 (February) ARACHNE, Copenhagen Light Festival 2023

2022 (from May until December) MUCBOOK CLUBHAUS "FRANZI", Munich
2022 (November) ART COLOGNE @ Malte Uekermann Kunsthandel, Berlin

2022 (October) "Jede:r macht Geschichte – aber nicht jede:r wird dabei so sichtbar" über Sophie Scholl @ Kulturforum Klosterkirche, Traunstein
2022 (April)
DesignWalk.Art PART II, Art in public space @ Nuremberg
2022 (April)
ART Düsseldorf – Main Artist @Allianz Lounge, Düsseldorf
2022 (March – April)
Honey, it's all about money! Neons & NFT @Bonhams Munich
2021 (September – October)
DesignWalk.Art, Art in public space @ Munich, Augsburg, Passau
2021 (June)
TIME MATTERS @ Pallazo Ducale Genoa, Italy
2021 (06th March – 14th March)
DESIGN IS EVERYWHERE @ MCBW Munich
2020 -2021 (May – February)
Amish Quilts meet Modern Art, tim | Staatliches Textil- und Industriemuseum, Augsburg
2020 (November)
PIN. Freunde der Pinakothek der Moderne e.V. – 18. BENEFIZAUKTION, Munich
2020 (July – August)
Gruppenausstellung bei Michael Heufelder, München
2020 (7th March – 15th March)
The Burning River @ Isar, Munich
2020 (18th February – 17th March)
DESIGN! or NO SIGN? @ Siegestor Munich, MCBW Munich
November 2019
Art Düsseldorf Bernheimer Fine Art, Düsseldorf
2019 (10th November)
TEDx Munich – BACK TO THE FUTURE,Munich
2019 (April)
Jan Kuck TIME TO TALK NOW @ Kunsthalle München, Munich
2019 (January – February)
BC-PopUp @ Potsdamer Platz, Berlin
2018 (October)
VANITAS IS CONTEMPORARY, BC-PopUp @ Gallery Jordanow, Munich
2018 (30th September)
Respect & Liberty – salon talk with Dr. J. R. Horta (Nobel Peace Prize Winner) and Dr. K. B. Murr (director State Textile and Industry Museum Augsburg)
2018 (September)
POSITIONS Art Fair, Stand Telefonseelsorge, Berlin
2018 (September)
GOLD – Galerie Valentien, Stuttgart
2018 (September – October)
MONUMENTA – intelligence of many, Leipzig
2018 (June)
paper positions basel, Bernheimer Contemporary, Basel
2018 (April – June)
WONDERLAND I & II at historischer Kornversuchsspeicher, Berlin
2018 (February)
Temporary Culture Artlab at historischer Kornversuchsspeicher, Berlin
2018 (January – February)
SEGRETE Tracce di Memoria – Artisti alleati in memoria della Shoah, Genova Italy
2017 (November – December)
HISTORY IS NOW – solo exhibition Jan Kuck @ ANNA LAUDEL contemporary, Istanbul,Turkey
2017 (September)
ART MARKET BUDAPEST – Bernheimer Contemporary, Budapest Hungary

2017 (September)
MATERIAL BOYS & GIRLS – PART II @ Bernheimer Contemporary, Berlin
2017 (September)
Contemporary Istanbul 2017 Art Fair @ ANNA LAUDEL contemporary

2017 (September)
MATERIAL BOYS & GIRLS – PART I @ Pictet, Munich
2017 (June – July)
WE ALL LOVE ART @ Schlachthaus.fresh&fine art SevenStarGallery
2017 (July – August)
Biennale "Le latitudini dell'arte" 3° ediz. Germania e Italia
2016 – 2017 (November – July)
ARACHNE – Staatliches Textil- und Industriemuseum Augsburg – tim Bayern, Augsburg Germany
2017 (April – June)
MIXED REALITIES @ Bernheimer Contemporary, Berlin
2017 (March)
ARACHNE – MCBW FORUM @ Deutsches Museum, Munich
2017 (February)
art KARLSRUHE intenational art fair, Bernheimer Contemporary, Karlsruhe Germany
2017 (January – February)
LET'S PLAY ?!, Bernheimer Contemporary @ Galerie Kremers, Berlin
2016 (December 2016 – February 2017)
WHEN DID WE STOP PLAYING – ART350 / Anna Laudel Contemporary, Istanbul
2016 (November)
SOFA CHICAGO Art fair – Berengo Studio, Chicago USA
2016 (October – November)
stARTart by BC, Berlin – Bernheimer Contemporary @ Palais an der Oper, Munich
2016 (October)
7th Benefiz-Kunstauktion Preview @ mianki.Gallery – Stiftung Telefonseelsorge, Berlin
2016 (November)
7. Benefiz-Kunstauktion @ BERLINISCHE GALERIE – Stiftung Telefonseelsorge, Berlin
2016 (October)
ART MARKET BUDAPEST – Bernheimer Contemporary, Budapest Hungary
2016 (September) 
WIDE(R)KUNST @ Holzmarkt Berlin
2016 (August – September)
Ansbach Contemporary- 1st Biennale for Contempoary Art at the residential city Ansbach
2016 (July – September)
PLASTIC Obsession @ Umweltbundesamt, Dessau
2016 (July – August)
ARACHNE – during la Biennale di Venezia – 15th Intl. Architecture Exhibition @ Arsenale Docks – Castello 40, 30122 Venice
2016 (April – June 2016)
What would I die for? – Bernheimer Contemporary @ Residenz Monijou, Berlin
2016 (March)
KIK EIGHT . GANZ GROSSES KINO – curated by Rachel Rits-Volloch, Constanze Kleiner and David Szauder @ Kino International Berlin
2016 (February – April)
Reflection . self-reflection – Bernheimer Contemporary @ Residenz Monbijou, Berlin
2015 (December)
Berlin and Munich in artistic dialogue – m+projekt Kunstraum, Munich
2015 (November – December)
THE TASTE OF ADDICTION – Bernheimer Contemporary @ Residenz Monbijou, Berlin
2015 (December)
nice from far from nice – Pop-Up Restaurant with Bernheimer Contemporary & Moritz von Hohenzollern – Munich

2015 (November)
PIN. Freunde der Pinakothek der Moderne e.V. – 13. BENEFIZAUKTION 2015, Munich
2015 (October)
HIGHLIGHTS International Art Fair Munich – Gallery Bernheimer / Colnaghi, Munich/London
2015 (July – August)
Who Cares? Social Responsibility in Contemporary Art – Bernheimer Contemporary @ Residenz Monbijou, Berlin
2014 (November)
HIGHLIGHTS International Art Fair Munich – Gallery Bernheimer / Colnaghi, Munich/London
2014 (September)
VANTIAS – Bernheimer Contemporary as guest at Bernheimer Fine Old Masters, Munich
2014 (May – August)
The T.TABLE II – Q110 – Die Deutsche Bank der Zukunft, Berlin

2013 (October – November)
The T.TABLE I – JRGallery, Berlin